On a beautiful Saturday morning, Prime's Atlanta team tackled litter and undesirable plants in an effort to preserve and protect the wetlands surrounding Bromolow Creek in Gwinnett County. Great Gwinnett Wetlands is an annual event hosted by the nonprofit charity Gwinnett Clean & Beautiful, supported by Gwinnett County's Department of Water Resources and aimed at maintaining the county's wetlands as well as educating residents on their importance. The Gwinnett wetlands, which flow into the Chattahoochee River, Yellow River, and Lake Lanier, provide filtration and flood control for these waterways and surrounding areas.
Just as the caffeine kicked in, we started off our day with several hundred volunteers and Gwinnett County staff. After a few opening remarks and important safety guidelines, all volunteers were split into smaller groups and given various assignments. The Prime team's assigned task was to clean up the streams, wetlands, and roads. Our group, paired with another engineering firm, decided to walk about half a mile down Satellite Boulevard to a thick area of the Bromolow Creek wetlands to begin our assignment.
Our target areas for the stream cleanup were mostly shaded, providing a refreshingly cool ambience for a morning of hard work. The wetlands were lush, filled with greenery and a variety of species — some better left alone in their home. Despite being close to a busy boulevard, the thick greenery created a pleasant quiet where, if you stood still for a moment, you could feel a real connection with our natural surroundings.
Picking up trash along our route, we descended from the streets and sidewalks to the creek bank. Sadly, our route allowed us to find plenty of trash carelessly thrown from cars passing above. Our team divided into pairs to conquer different areas and cover as much ground as we could. As we moved further into the wetlands, employing the buddy system turned out to be the best decision of the day.
Some of the trash we encountered — tires, televisions, car engine parts, and even chain-link fencing — was too large or too heavy for one person. Additionally, we found and removed hundreds of throw-away consumer items like plastic soda bottles and cans, fast-food containers, various glass items, diapers, and a few fire extinguishers. Our only defeat of the day came at the hands of a child-size Barbie jeep. Even with four or five of our team giving our best effort, the toy car was enveloped in the mud of the creek bank and would barely budge.
At every stage of our exploration through the wetlands, we found a disturbing volume of trash — on hills, along the creek, in the creek, and even buried in the ground. As we slowly moved through our assigned area, in true engineering fashion, we used an assembly line technique to haul items up the hill from the creek bank. Once we had gathered all we could find, we carried the last of the trash out of the wetlands and onto the sidewalk to be picked up by large trucks for proper disposal.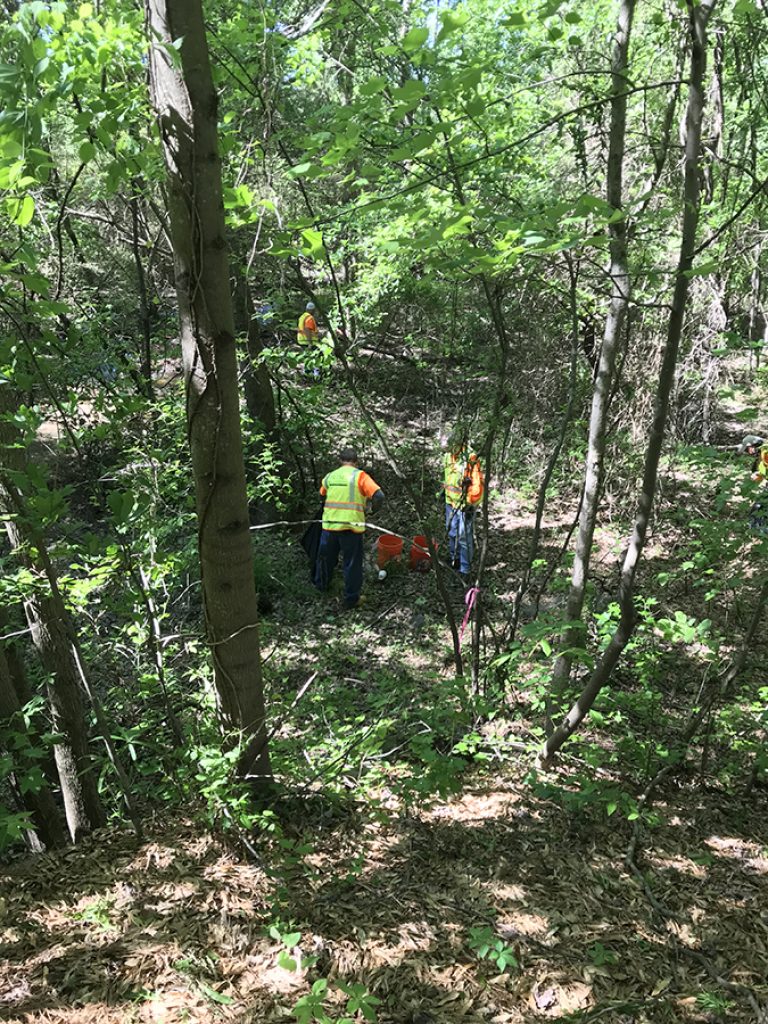 It was a morning of hard work and immense satisfaction to be able to make a difference. After closing remarks and shout-outs to our wonderful group leaders, we received a T-shirt and reusable water bottle to thank us for our efforts and commemorate the day. Our team enjoyed giving back to this community and didn't mind getting a little muddy for a greater cause. It was nice to see so many people, from various companies and neighborhood groups, volunteering their spare time to give back and preserve the Gwinnett wetlands. Gwinnett Clean & Beautiful estimated that volunteers this year:
Removed 9,620 lbs. of litter and invasive plants from two miles of our roadsides and stream banks
Disposed of 2,400 lbs. of tires that were illegally dumped on property surrounding the wetland
Educated more than 400 nearby residents on the importance of not littering or dumping down storm drains
I know Prime Engineering is looking forward to participating again next year! If you want to learn more about Gwinnett Clean & Beautiful and find other volunteer opportunities, check out their website HERE.