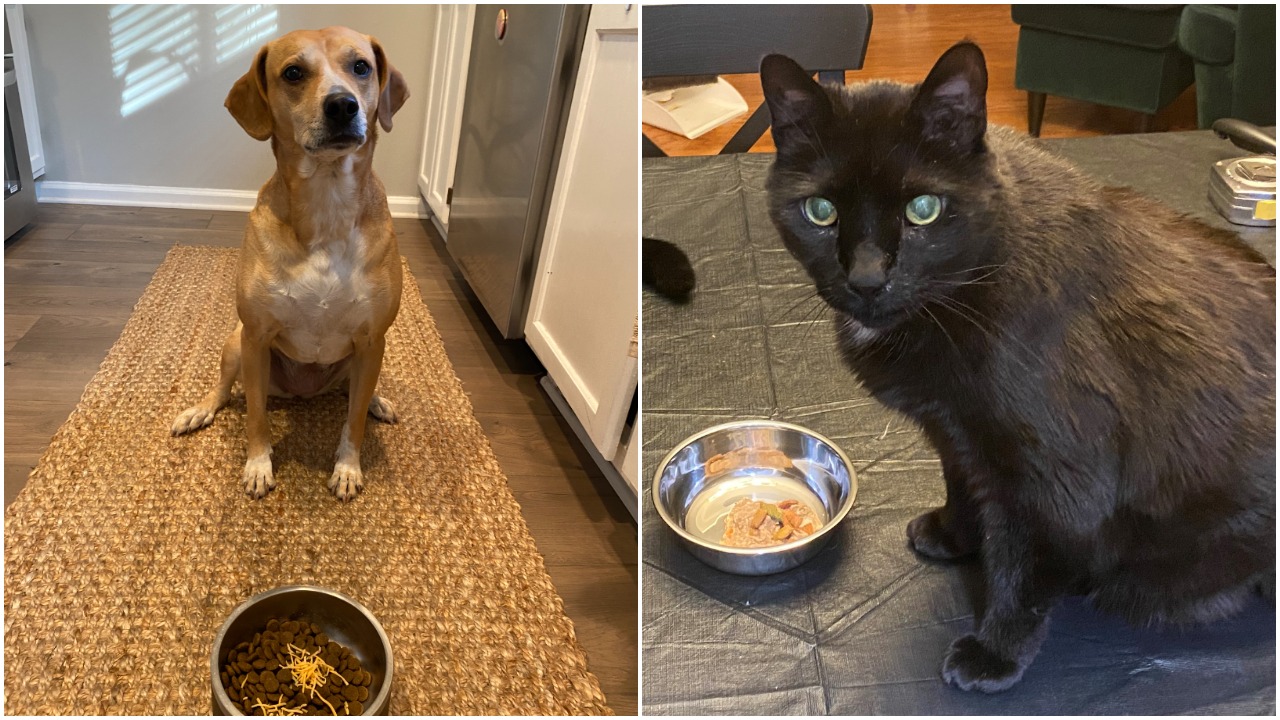 "Be the person your dog thinks you are."
This adage and thousands of other sayings attest to the deep bond we have with our pets. Pets first decided to own us more than 14,000 years ago, and since then, they have snuggled, squirmed, and cuddled themselves into our lives and hearts. Pets provide essential companionship, play, affection, emotional support, and sometimes are quite literal lifesavers.
Most of the time, though, we humans are the ones who look out for our beloved fur-babies (or feather-babies or scale-babies). It's on us to supply the shelter, love, comfort, and, above all, nourishment our friends need. And as most pet owners know, a day spent chasing Frisbees or stalking balls of yarn can give our pets quite an appetite!
So it's not surprising that pet-food sales support a large and sophisticated industry constantly debuting state-of-the-art advances in nutritional science, process engineering, manufacturing, and supply chain management. As representatives of Prime Engineering's Industrial Department, we've immersed ourselves in this exciting and high-growth market. Our clients are riding a wave of expansion and diversification; in 2021, pet food and treat sales reached approximately $47 billion in the United States alone. Globally, it's even bigger: about $110.5 billion in 2021 and projected to reach nearly $164 billion by 2029.
In 2022, it seems that at least at the food dish, every dog (and cat, and parakeet, etc.) is indeed having its day.
What are some factors driving this? There are many, including rapid market growth in regions outside the United States. But we'll focus on two of the most important:
Pandemic-Related Growth
COVID-19 had a negative impact on pet-food supply chains, as it did on every other industry. But this was more than countered by the increase in per-household expenditure. Isolated from family and friends for months at a time, many people brought pets into their lives. More significantly, more than one-third of households reported increased spending on their pets, as owners lavished extra care and attention on their loyal companions while on lockdown. While the pandemic is thankfully receding, the COVID-driven spending trends seem here to stay for at least the next five-year forecast.
Nowhere is this seen more concretely than in the growth of online pet-food distribution. The pandemic drove a considerable number of brick-and-mortar shoppers to online alternatives, and the pet-food industry is no exception. Online distributors like Amazon, Chewy, and others are delivering pet foods directly to pet owners' doors. During the pandemic, Web-based shopping rose by 20%, with nearly 86% of owners using online services to meet at least some of their pets' nutritional needs. This tendency is projected to continue as online-savvy Millennial and Gen Z consumers increasingly make up a greater percentage of pet owners and home-delivery consumer-packaged goods take their place alongside more traditional shelved items.
As engineers, this increased dynamism affects us – and gives us opportunities – all the way through the supply chain. You might say there's a kind of "arms race" among pet-food manufacturers, as they deploy business development teams to analyze markets in real time and make the case for pet-food facility and process expansion and diversification. Pandemic and post-pandemic growth are ramping up the need for fast-turnaround facility and process design and construction. Speed to market is essential. Our team needs to efficiently conceptualize and develop facility expansions, related infrastructure, equipment layouts, building envelopes, and sanitary systems to keep up with new demand. At the same time, we must address our clients' concerns that each new facility and process be optimized and ready for future expansion.
Here are a few of the issues and opportunities we've seen in the past couple of years:
A side effect of the pandemic has been the tendency toward insourcing and localization. Ironically, even as pet-food sales trend upward, global supply chain issues make it more difficult to acquire equipment and spare parts. Rather than rely on the vagaries of international supply chains still subject to disruption, US pet-food manufacturers increasingly value American-made equipment and local experts who can design and modify facilities and processes at a moment's notice. Even during the past 18 months in our own roles, we've noticed a significant increase in the diversity of the pet-food manufacturing projects we're called on to deliver in the regional markets that comprise the brunt of our revenue.
Another business driver is pet-food manufacturers' increased interest in vertical integration. Pet-food manufacturers want control over the entire supply, manufacturing, and distribution lifecycle of their products from start to finish. Increasingly, the bigger players in this industry own not just factories and machinery, but also farms, ranches, silos, feedstocks, equipment manufacturers, and distributors – all of which must be coordinated under the same processes and follow the best practices of the parent company. When our team designs an Automated Storage and Retrieval System, freeze-drying mechanism, or other system, we need to be mindful not only of the design's relationship to the immediate manufacturing process, but also how our design will impact related functions up and down the larger organization.
Flexible and lighter-weight packaging helps with rapid response to shifts in demand. Consumer goods packaging is rapidly changing as concerns about both waste and the supply chain accelerate demand for hybrid packaging. Lightweight, sustainable packaging can be displayed and picked robotically for store and home delivery applications.
Sustainable Foods, High-Nutrient Brands, and Luxury Pet Treats
The term "pet humanization" has become an industry standard, as owners around the globe demand their animal companions have access to a diet as healthy, varied, and delicious as their own. While kibbles and grain-based wet food will remain dietary staples, they are joined by a vast array of luxury brands featuring "human-grade" ingredients. In particular, more than 40% of dog and cat owners buy "premium"-grade and/or sustainable food for their pets, and this trend increases to approximately 70% among Millennial pet owners. Pet owners have educated themselves about ingredients that maximize health and wellness, gravitating to nourishing, customized foods that can treat specific conditions like obesity, skin conditions, and dental and digestive problems.
The global impetus toward sustainability hasn't been lost on pet owners. Environmentally conscious owners increasingly select pet foods made from sustainably caught fish, Impossible Burger-style plant proteins, and even insects such as crickets and grubs. While dogs, cats, and many other pets are primarily carnivores, they can enjoy and even benefit from a regimen of healthy, high-fiber plant-based mixtures incorporating broccoli, kale, sweet potatoes, even fruit, which produce less of a carbon footprint than meat-based products.
Sometimes, though, we just want our pets to indulge. The COVID and post-COVID worlds have seen a surge in gourmet, custom-made pet treats in an astounding variety of textures and tastes: long-lasting jerky bone chews; flavors such as venison, Canadian bacon, strawberry, mint, beef & berries, fish & citrus, duck & cherry, pancetta, speck & cheese, peanut butter, and more; even a dietary supplement made from natural wheat-based grass saturated with chlorophyll and folic acid and enriched with immune-system-boosting vitamins and antioxidants. Of the $47 billion in sales mentioned earlier, treats and luxury foodstuffs constituted more than $10 billion of that figure, and the pet treat industry is growing at a 12% Compounded Annual Growth Rate (CAGR). Small wonder, then, that in summer 2021, General Mills bought Tyson Foods' pet treats division for $1.2 billion, adding to the corporation's already $8 billion purchase of Blue Buffalo pet foods.
As engineers, we find ourselves at the forefront – the lead dogs, you might say – of these advancements. Some developments we're seeing:
New and more exacting recipes spur new processes and complexities in manufacturing. Pet-food industry specialists are busy developing new processes or retrofitting existing product lines to process ingredients promoting improved taste, health, and wellness. For example, manufacturers seeking to meet demands for probiotic pet food might develop a coating line in which bags of probiotic powder mix with fat that is then used to coat kibbles or mixed into stocks of wet food.
The recent plethora of choices in brands and ingredients means that a single manufacturing facility must be optimized for product diversity. With a given facility potentially producing everything from grain-based wet food to human-grade beef treats and dietary supplements, warehousing and logistics must accept new packaging configurations and the influx of additional production materials. Doing so allows manufacturers to produce and ship a wider range of products without a commensurate increase in facility space. Facilities will produce multiple products on a single manufacturing line and build those products to meet customer orders as demand fluctuates.
As the pet humanization trend continues, owners and manufacturers demand that production processes adhere to the same standards of quality and safety as found in facilities producing human foods. Depending on configuration and age, some facilities must be renovated or even built anew to accommodate new realities and regulations. New facilities often need reinforcement to withstand extensive sanitary washdowns and must include stainless-steel surfaces, antimicrobial polyurethane floors, improved ventilation and HVAC systems, and other hygiene-conducive components.
As pet owners ourselves, we find these fascinating developments rewarding not only financially, but emotionally as well. We might not yet be able to give our pets the "cheezburger" they crave, but we are on the forefront of opening up a world of enriching options for our animal companions. Pets provide so much joy for their owners, and we're happy to play a part in making sure Fido and Fluffy have the highest-quality and most nutritious chow they can wolf down. If your inner feline makes you curious about this topic, contact us with comments or questions at AWeible@prime-eng.com, DBloemke@prime-eng.com, or TTurner@prime-eng.com.