Atlanta's Westside is a core component of the city's identity.  In these neighborhoods reside the Atlanta University Center, home to Clark Atlanta University and Morehouse, Morris Brown, and Spelman Colleges; the childhood home of Dr. Martin Luther King; and Paschal's Restaurant, where civil rights leaders met to organize their movement.
The area has history. However, its present state is less than ideal. It housing stock has declined. Its infrastructure requires substantial repair.  And as rainfall has increased around the country, this area of Atlanta has been especially prone to flooding and storm/wastewater problems.
Recently, a master's thesis written by a Georgia Tech graduate student in 1999 is giving this area hope.  In that thesis, Ryan Gravel outlined a concept he called the Atlanta Beltline, a walking/biking/hiking trail that circumnavigates Atlanta. According to Intown Atlanta newspaper, "His master's thesis became the kernel of a vision that would transform a 22-mile loop of old railroads with transit, trails, and greenspace to promote economic growth and quality of life in 45 neighborhoods."
The Eastside Trail, a predecessor project, was the catalyst.  Once constructed, it triggered both two-legged and two-wheeled traffic. But it also led to millions of dollars being invested in homes, condominiums, apartments, restaurants, and microbreweries and distilleries.
Now it's the Westside's turn, and the City and organizations such as the Arthur Blank Foundation, Chick-fil-A Foundation, SunTrust Bank, Westside Futures Fund, and Westside Works have collaborated to inject millions into the area.
Five projects highlight these investments, and I'll give you a brief overview of each.
Boone Boulevard Green Infrastructure & Capacity Relief
https://www.epa.gov/sites/production/files/2015-10/documents/boone-blvd-report-508-report.pdf
Prime is currently engaged in a $15 million project to inject infrastructure improvements, flood-control elements, community gardens, and two beautiful parks into the Boone Boulevard neighborhood. Truly a green streets initiative in the Proctor Creek Watershed, the project is being built with the goal of diminishing the longstanding flooding concerns in this area and doing so in an environmentally sustainable fashion.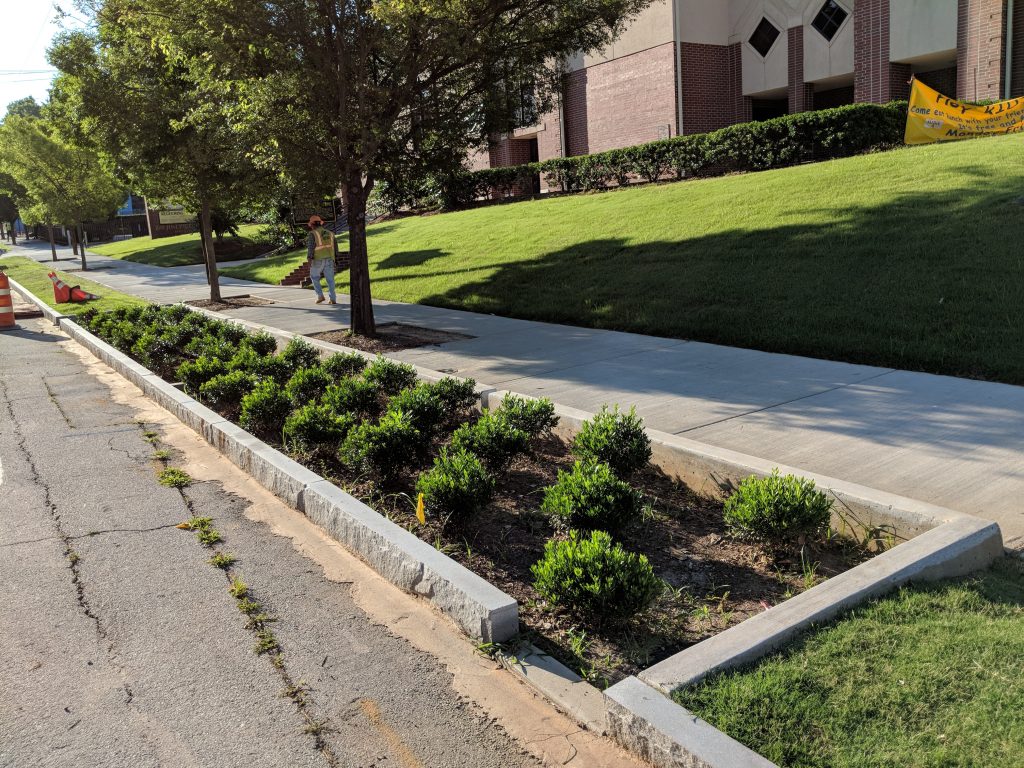 New planters along Boone Boulevard
Ivan Allen Jr. Trail & Gateway Bridge
https://pathfoundation.org/2016/09/ivan-allen-gateway-a-go/
This project seeks to restore a physical connection between the Westside and Downtown Atlanta, an area physically isolated by railroad tracks, a four-lane Northside Drive, the Georgia World Congress Center, and the glimmering Mercedes-Benz Stadium. A memorial to the former mayor of Atlanta, Ivan Allen Jr., the bridge will carry cars, bikes, and pedestrians across the divide to the Westside.
Rodney Cook Sr. Park
https://www.rodneycooksrpark.org/
This dual-purpose public space is designed to provide 16 acres of public recreation area and alleviate flooding in the Vine City neighborhood. This park, it's hoped, will both beautify and rectify flooding problems that peaked in 2002 when flooding destroyed some 200 homes. It features a playground, a splash pad, a great lawn, multi-purpose courts, and an amphitheater. It also will feature raingardens, landscaping to capture wastewater and rainwater, and a 10-million-gallon pond/wetlands area featuring native plants.
Kathryn Johnston Memorial Park
https://www.conservationfund.org/projects/kathryn-johnston-memorial-park
This is another dual-purpose project in the English Avenue area on the Westside, a few blocks from the Mercedes-Benz Stadium. The park will feature exercise stations, a playground, seating areas, shade shelter, a network of walking paths, and an open greenspace/lawn to accommodate events like English Avenue's Festival of Lights. From an infrastructure perspective, however, the park's most important feature is its ability to manage 3.5 million gallons of stormwater annually, a vitally important element given the area's location within the Proctor Creek Watershed.
Westside Reservoir Park
https://atlanta.curbed.com/2019/5/1/18522044/bellwood-quarry-westside-park-construction-atlanta
Just west of Georgia Tech and along the Atlanta Beltline lies one of Atlanta's iconic geographic features, the enormous Bellwood Quarry. A backdrop featured in such TV and film hits as The Hunger Games, Stranger Things, and The Walking Dead, this quarry–no longer operational–helped developed the rock that became Atlanta's streets. Now it's becoming something quite apart from car traffic: a 2.4-billion-gallon freshwater reservoir that will increase Atlanta's water reserves from less than a week's work to as much as 90 days, and an extensive string of parks (total of 280 acres, which will supplant Piedmont Park as the City's largest greenspace area) for city inhabitants and Beltline travelers.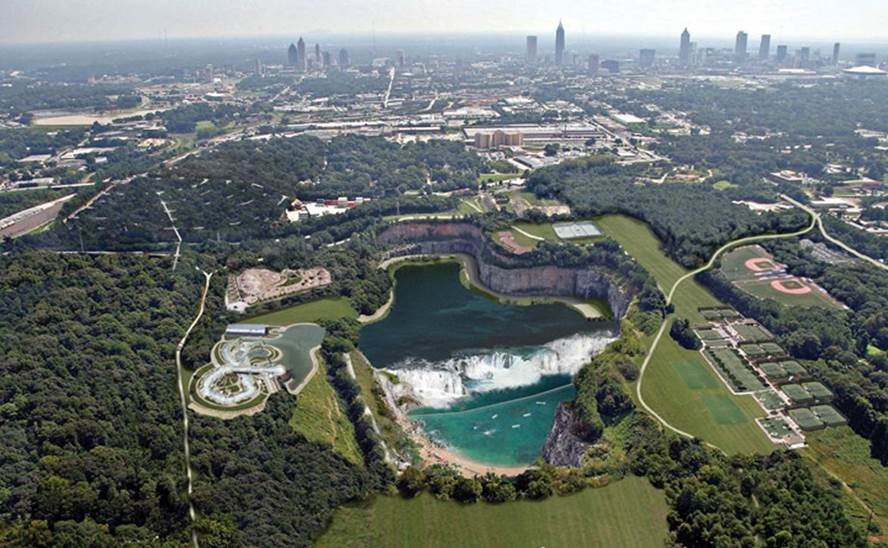 Westside Reservoir – Photo Courtesy of Alex Garvin, AGA Public Realm Strategists
Being Good Neighbors
As engineers and members of the AEC community, our profession is not often looked upon as do-gooders. We're seen as technicians, focused on blueprints, flowcharts, 3-D imaging, and Return on Investment. And sometimes we are.
But working on projects like this remind us all that we play an important role in our culture. These areas' revitalization will pay great dividends in terms of economic growth, public safety, and quality of life. I'm happy to play a small role in making that happen.
If you're working on projects that make a difference in communities, I'd love to hear your experiences. Please reach out to me at RMacPherson@Prime-Eng.com.